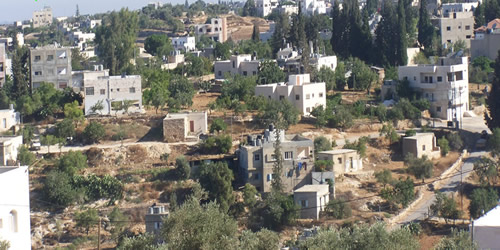 Beit Reema is located 25k north west of Ramallah and 22k east of the Mediterranean Sea. Due to its closeness to the Coastal Plains, it used to be part of al-Lud County before 1948. Even, you can see al-Lud Airport in clear nights. Its location is always easy to find on any map because it is located at the meeting point of 32 degree North and 35 degree East. It is 507(meters) above sea level.
It also has a unique location where three County borders meet:


In the north Nablus (you can see Farkha and Kofer al-Deek)


Northwest Tul Karim (Broqeen and Deir Ballout are very close)


To the south Ramallah District (Nabi Salih, Deir Netham).


To the northeast Kofer Ayen and Qarawah Beni Zeid.


To the West Abbud and al-Luban alGharbi.
You can not talk about Beit Reema without mentioning Deir Ghassanah.It is the twin sister for Beit Reema and shares everything with it.It is the northern extension of Beit Reema.See Deir Ghassanah